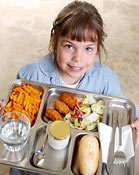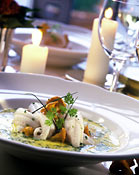 About Duke Catering
DukeCatering.com, LLC was started in 2000, by Nancy and Bernard Doogue, both of whom are very experienced and educated food service and catering professionals.
Duke Catering caters to the "hot lunch" program needs of school children in South Jersey and also provides event catering for businesses and individuals.
Menus are planned and developed with the help of our own experienced nutritionist and follow the "wellness" program outlined by the Federal Government. Meals are developed to be tasty and satisfying and are lower in cholesterol, fat, and sodium, and yet high in enjoyment and nutrition, and most importantly very "kid pleasing". None of our foods are ever fried and menus are designed to offer a wide variety of foods, tastes and textures.
Kids develop life-long eating patterns at an early age – ensure that they start off correctly by having them enjoy healthy, nutritious and very "kid pleasing" lunches from Duke Catering.